Since 1985, rpGatta inc has specialized in custom built assembly equipment. We design, build, test, and install automated equipment for numerous applications and industries.
We custom design every piece of equipment to meet the customer's needs, their specifications, their facility, and their product.
80% of the equipment we design is first of kind (prototypes) that must go into full production at the arrival to our customer's facilities.
We engineer the machine or system mechanically, electrically, pneumatically, hydraulically, and the software all in house.
Very often, we totally conceptualize the equipment from scratch with only the end purpose requirement provided by our customers.
We always perform a 100% fully simulated dynamics equipment runoff at rpGatta where the machinery or systems are fully assembled, tested, and demonstrated to the customer in our facility for approval before shipping to their facility.
We supply manuals, electrical and mechanical drawings, bill of materials, spare parts lists, PLC programs, etc. with every piece of equipment we design.
We guarantee commitment to continue to support equipment after final payment and provide phone support after warranty period.
In general, the more challenging the application the further we excel.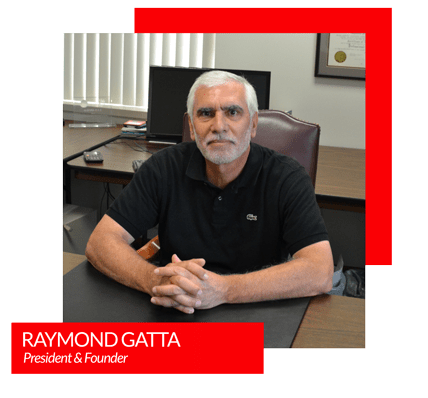 Our 56,000 sq. ft. facility in Aurora, Ohio was built in 1998, originally at 28,000 sq. ft., but with our growing company, we expanded the building an additional 10,000 sq. ft. in 2017 and an additional 18,000 sq. ft. in 2020.
Our office space takes up 11,000 sq. ft. and houses our engineering department and management team.
Our shop floor takes up 45,000 sq. ft. and is dedicated to welding, fabrication, painting, assembly, and testing of the equipment we build.
There are five 5-ton capacity overhead electric traveling cranes to aid in machine assembly, three docks for shipping and receiving, three welding tables, machining equipment, black oxide tanks, and a large paint booth.
How We Operate
We have a minimum of (7) Engineers very involved in overseeing each project: President, Vice President, Mechanical Engineering Supervisor, Electrical Engineering Supervisor, Sales Engineer/Project Manager, Project Mechanical Engineer, and Project Controls Engineer.
As a team, we create innovative concepts and sketches on the white board in a collaborative environment to get full team involvement and input.
Very often, we fully concept each custom system prior to submitting a proposal. This ensures that we are quoting the correct equipment to provide our customers with the most competitive pricing for our first class systems.
We hold multiple design review meetings throughout the project duration where our experienced team provides input and guidance.
Our design engineers assist our mechanical and electrical assemblers in the shop with answering questions and providing direction to ensure the equipment goes together as designed.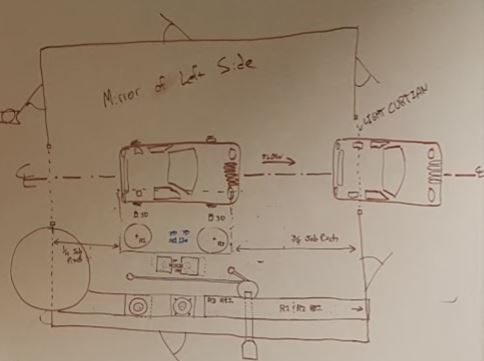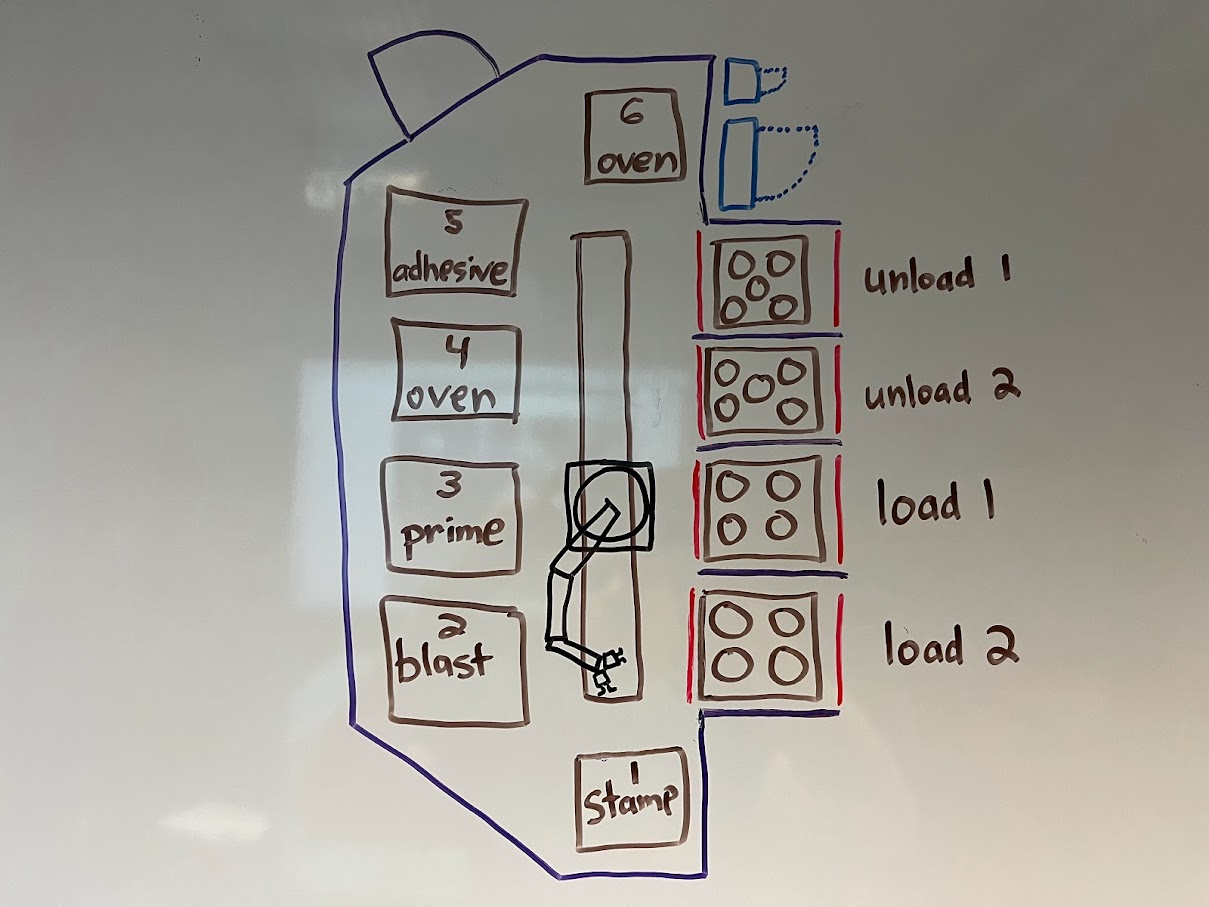 Our Technical Capabilities
rpGatta is ISO 9001:2015/T.E. and ISO 14001:2004 Compliant, and has been awarded Q1 by Ford Motor Company.
We have our Alabama Contractor's License.
We are a certified Fanuc, ABB, Motoman, Kawasaki, Kuka, and Epson System Integrator.
Our electrical and software engineers are well versed in Allen Bradley, GE, Siemens, Mitsubishi, Toyopuc, Yaskawa, and Omron PLC controls. They are fluent in Visual Basic and C++, and integrate a wide range of communication protocols, vision & measurement systems, data collection, part tracking, RFID, and bar code scanning into even the most challenging applications.
Our mechanical engineers are proficient with AutoDesk Inventor, AutoCAD Mechanical, and FEA stress analysis.
Our highly skilled mechanical and electrical assemblers are proficient with assembly of any size or complexity, our talented panel builders build, wire, and test all our panels and electrical control cabinets to our customers' specifications, and our experienced welders weld together our intricate and complex large weldments.
We hold Seven U.S. Patents on Semi-Automatic Line Tracking Bodyside Molding Apply Equipment, Error Proof Pin and Scriber Marking Systems, Intelligent Ergonomic Assist Systems, Hoist/Balancer Twist Grip Pneumatic Control Systems, a Robotic Rubber Extruder Loader System, and two on a Robotic Virtual Stop Station.
We currently have Two U.S. Patents Pending for a New Battery Leak Test System and Robotic Cylinder Head Valve Stem Keeper Installation System.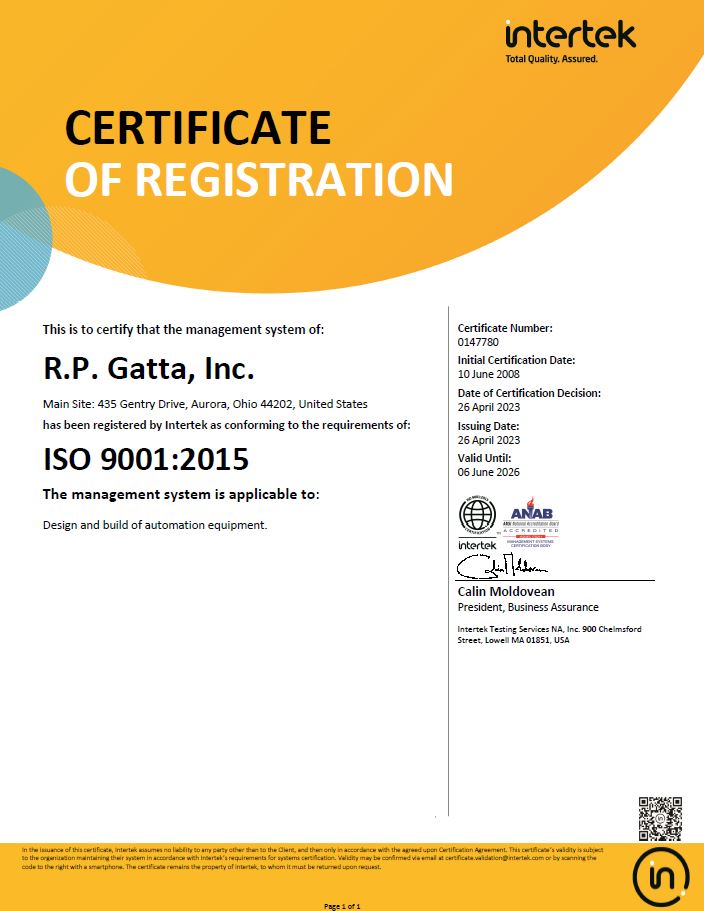 All of our equipment is designed, built, and supported in the USA from our facility in Aurora, Ohio
Since 1985 rpGatta has rigorously developed and built highly engineered, high quality, and reliable turnkey automation and robotic systems to suit our customer's specific requirements

38+ years of successful never-been-done-before projects: we specialize in designing first of a kind / prototype automation and robotic cells that must go into full production upon delivery
rpGatta is capable simultaneously developing and delivering multiple automated lines >$50,000,000.00
Proven track record of developing multiple successful and on time projects that have been conceptualized from scratch with only the end purpose or current process provided

rpGatta line integration experience:

Dozens of Fluid Dispensing Robotic Systems
>100 Torque Tools and Multi Spindle Systems Integrated
>1,000's of feet of linear servo-controlled rack and pinion gantry rail
>100's of servo positioning and pressing applications
>1,000's of feet of custom conveyors

Proven Expertise: We draw from a wide variety of experiences over multiple industries and we are accustomed to integrating new technologies and minimizing risk to ensure our success
All first-class solutions and heavy-duty designs to maximize success
100% Fully Simulated Dynamics Equipment Run Off at rpGatta inc
We never outsource labor, so you can always expect high quality design work and craftsmanship performed in house by rpGatta inc:

3D Mechanical Design in Autodesk Inventor
Electrical, Pneumatic, and Utility Design
PLC, Servo, HMI Programming
Vision and Specialized Sensors Integration and Programming
Robotic Integration and Programming
Panel Building, Welding, Fabrication, and Light Machining
Equipment Assembly & Start Up

rpGatta's guaranteed commitment to continue to support equipment after final payment and provide phone support after warranty period