Robotic VIN Stamping Cells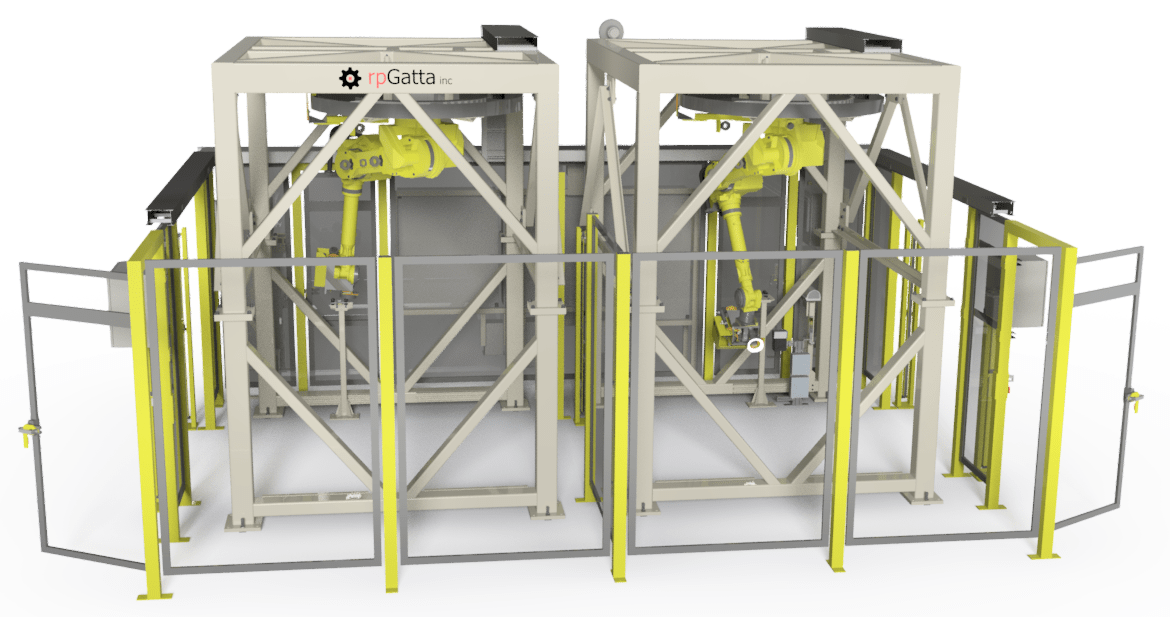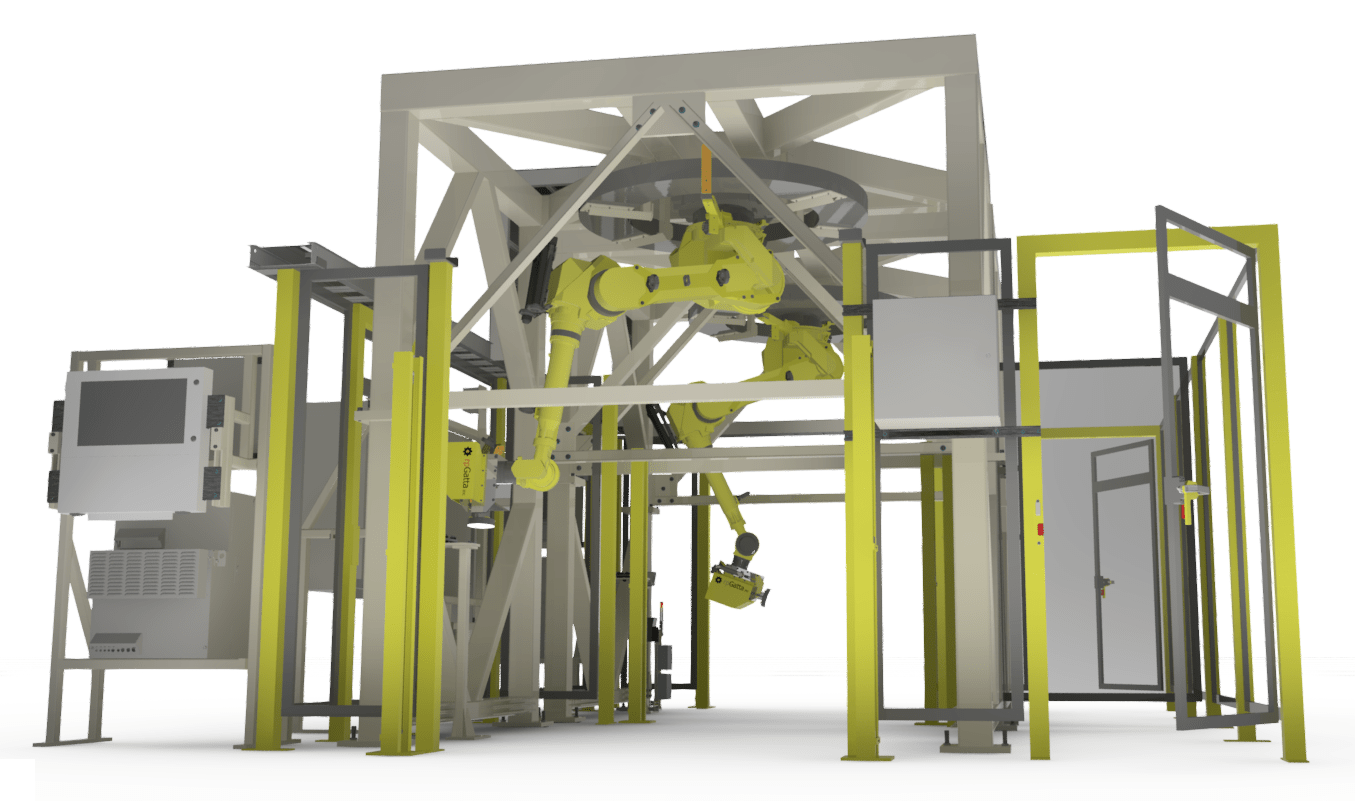 Features:
Robots capable of reaching both sides of the engine.
The end of arm tooling on the robots use a vision system to locate the engine, inspect the marked surface for defects, mark the VIN number, then read the marked VIN number to error proof the mark and pass/fail the VIN readability.
Systems include marking test stands inside the safety fence with accessibility from the outside using a request to enter button.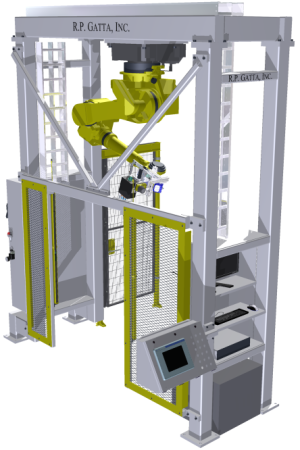 Robotic Tube Milling and Marking System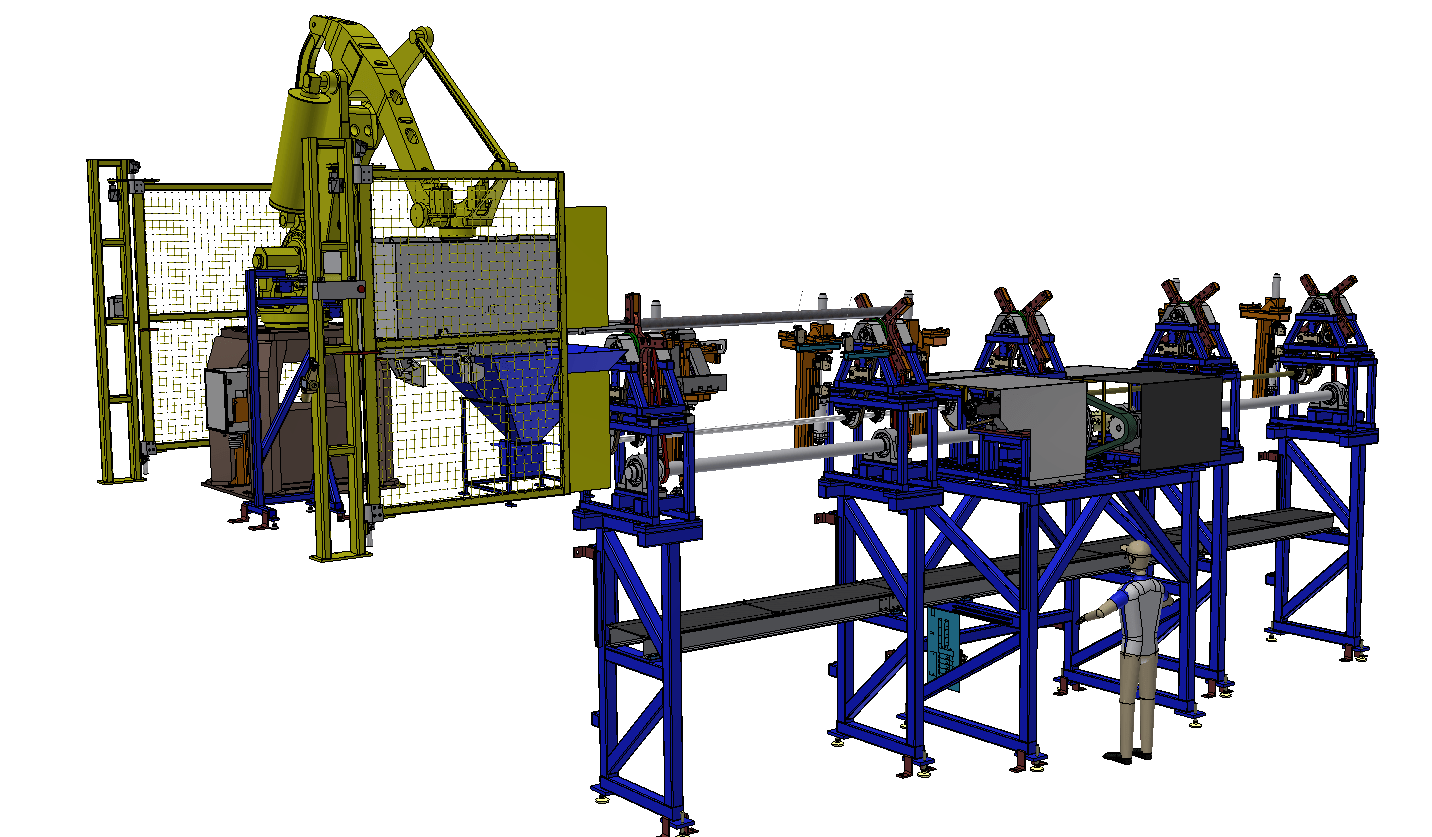 Consists of:
High temperature marking unit tube flat marking surface machining unit
Tube broken end measurement system
Robotic positioning system
Tube lift and rotate system
2-D bar code inspection unit
Tube straightness inspection system
Water cooling system
Safety protection
Controls system
Features:
Automatic tool changer controlled by 3 drawbar sensors and double acting pneumatic actuator
Pneumatically actuated clamp to hold tube securely during machining and marking operations
Utilizing the Robot's servo motor encoders for displacement feedback, a 3D model of the data is created
Custom software to analyze the 3D model to determine how much to rotate the tube to the optimized position for the surface to be machined and marked
Tubes are lifted by pneumatically actuated pivot arms mechanically synchronized with a common pivot shaft
Error Proof Scriber Systems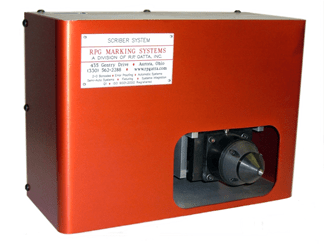 U.S. Patent No. 7,055,426 B1
Sample Scribes (Passing and Failing):

Features:
Imprints a surface accurately and permanently to form a scribe of alphanumeric characters
Error Proofing:

Electronically monitors the pin engagement to the work piece during the entire scribe
Displays a graphic representation of the scribe results on the monitors, where any portions of the scribe that failed to engage the work piece will turn red
Monitors system torque to anticipate tool wear or breakage

System Components:

Scriber head
Standalone computer Ice Station containing a PC, monitor, keyboard, mouse, and standard industrial controls components
Windows Operating System
Error Proof Scriber Software

User friendly graphical interface
Graphical representation of error proof scribe results
Serial and Ethernet communications
Onboard history log
Data results can be sent to supervisory system for retention

Error proof scriber system can be customized to suit customer needs
Typical applications include:

Product and part identification
Vehicle frame identification number
Body hidden VIN
Error Proof Pin Dot Peen Marking Systems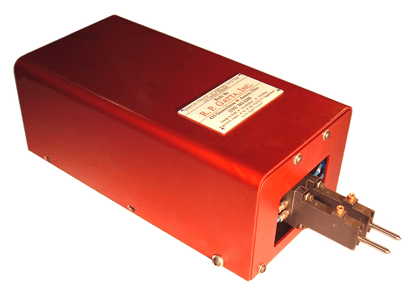 U.S. Patent No. 6,719,468
Features:
Marking System Imprints a Surface Accurately and Permanently to Form a Dot Matrix of Alphanumeric Characters
Error Proof Marking System:

Detects the engagement of every marked dot by utilizing a high-speed electric continuity circuit Monitors the speed of the pins to ensure the proper impact on the marking surface for each and every dot
Records the engagement of every dot for data collection as the dots are being marked
Displays the rotation number, predetermined marking, time, and date graphically
Stores and prints results (if desired)

Each Error Proof Marking System Includes a Freestanding Control Cabinet with Monitor and Keyboard:

Windows Operating System
Pull up Window graphics for user-friendly human interface
Computer, monitor, keyboard, and mouse housed in a NEMA 12 Enclosure
Ethernet or RS-232 input capabilities for incoming identification and rotation number
Patented Error Proof Marking System Ensures Reliable Results

Typical Applications Include:

Product and Part Identification
Engine/Transmission Identification Number
Frame Identification Number
Body Hidden VIN

Error Proof Marking System can be Customized to Suit Customer Needs
4000i Series Fully Integrated Marking System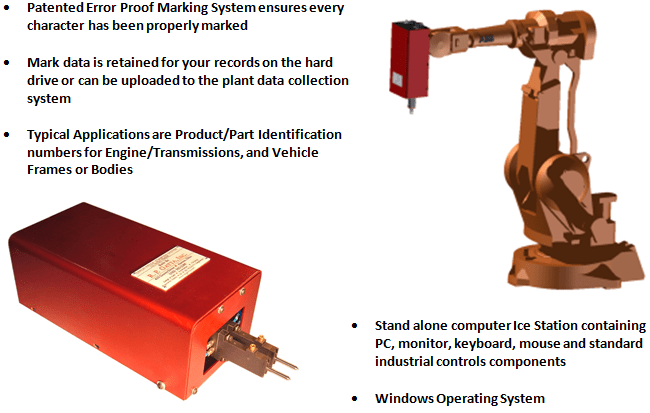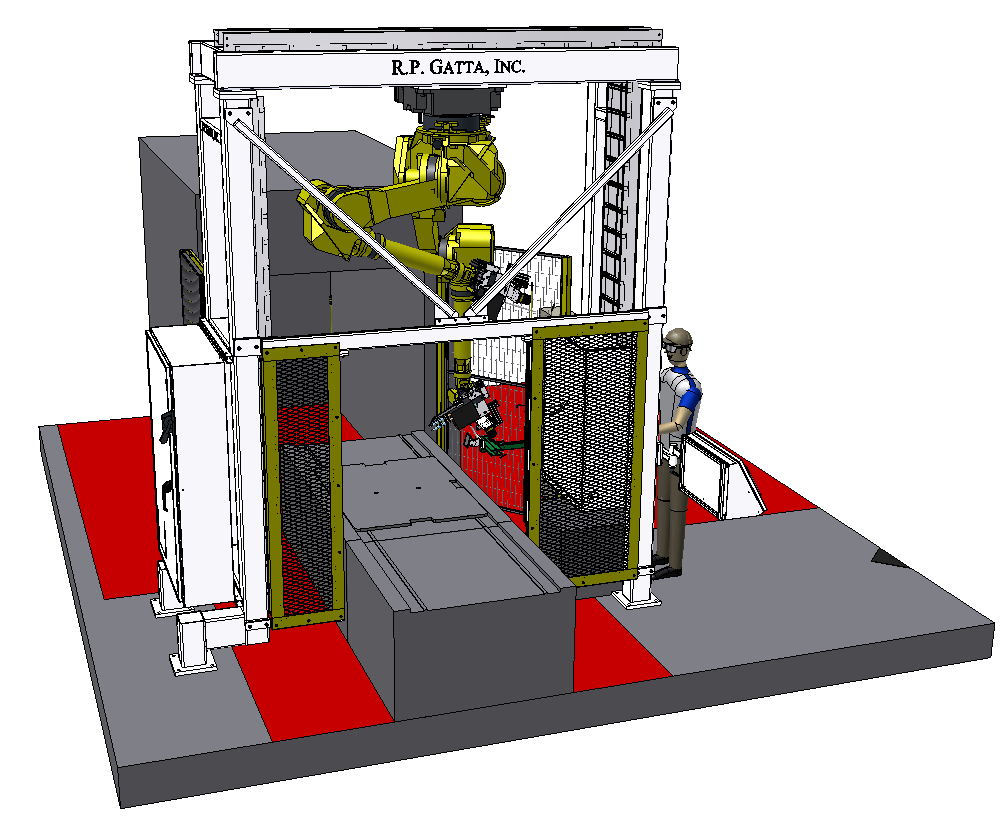 Features:
The 4000i integrates rpGatta's Error Proof Marking System on an 6-Axis Robot Platform providing a flexible and reliable automated marking system.
Error proofing vision
Sample Stamp Marks (Passing and Failing):

Series 4000i Specifications: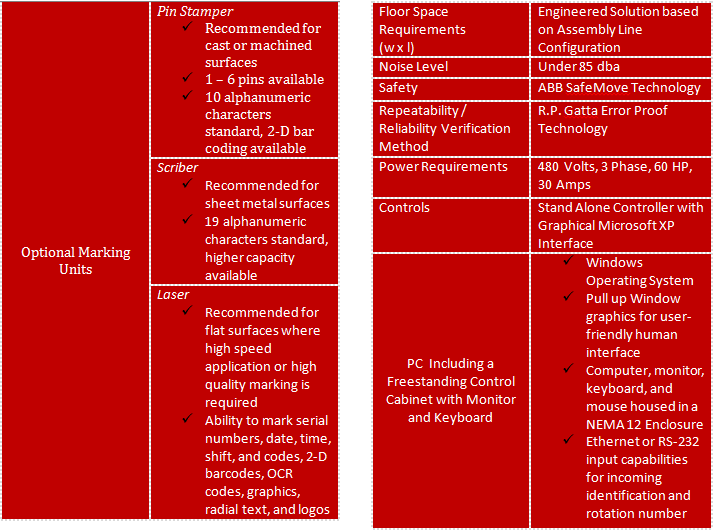 Laser Engraving Integration